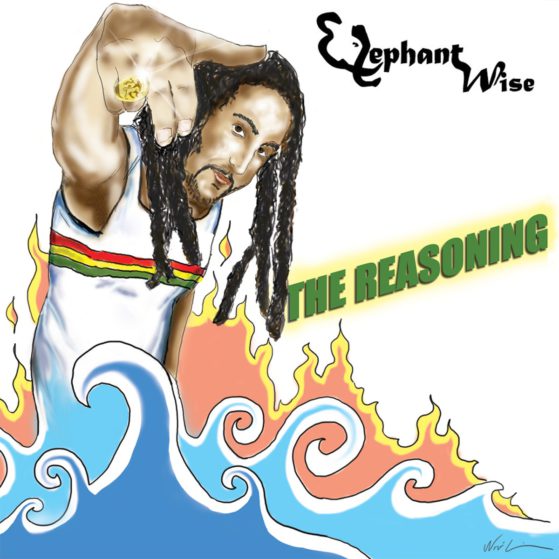 Elephant Wise – The Reasoning
Lava Camp Royale are proud to release the "The Reasoning" from Elephant Wise, an international artist with an international following. Coming off the back of his well received singles '21 Gun Salute' and 'Burning Slow', the Kenyan born Reggae singer's long awaited debut album 'The Reasoning' is finally here! 'The Reasoning' is a hard core, keeping true to its origins, in your face, modern roots/ dancehall reggae album, showcasing an authentic style and vibe. The Reasoning is now available on ITunes and Digital Retailers everywhere.
On 'The Reasoning' Elephant Wise works with producers such as Reality Chant Productions, High Stakes Records from New Zealand and NotEasy At All Productions from Europe. Collaborations with UK dancehall artist Deadly Hunta on 'Highest Grade' and Amsie Brown on 'Oman' underlines the international nature of The Reasoning with special recognition for the women who make life possible.
Meticulous production and tight horn sections complement the modern beats and smart lyrics. The seductively lazy style of Elephant Wise is immediately apparent on "Fire Blaze" while his versatility is demonstrated on "Belly A Di Beast" and "Cool Down", two catchy, progressive tracks with a fast paced vibe. The album also contains exciting collaborations with local Australian talents LNX Dread and Elijah on"Cool Down". "Run Dancehall" is a bouncy riddim driven song and "Sugar Nancy" is a dancehall- ready track with a roots message built in. Indeed, roots and consciousness is a major theme to which Elephant Wise manages to hold true while recording cutting edge productions for reggae and world music fans.
TRACKLISTING
1. Intro
2. Fire Blaze
3. Burning Slow
4. Highest Grade feat. Deadly Hunta
5. 21 Gun Salute
6. Cool Down feat. LNX Dread and Elijah
7. Interlude 1
8. Belly A Di Beast
9. Run Dancehall
10. Oman feat. Amsie Brown
11. Sugar Nancy
12. Interlude 2
13. Burning Out
14. Legalize It